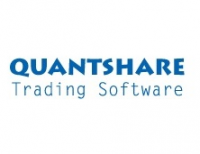 Although focused and dedicated to providing the the most complete and advanced trading solution available, Azouz Gmach of QuantShare.com agreed to participating in an interview with NoReazon.com about their product and industry.
For anyone presently in the currency exchange industry, or is looking to find out more about it, may want to consider looking into the products and services provided by QuantShare.
For those of us that have nothing to do with that particular industry can still benefit from reading the following interview, so when you have the time. Below are the questions presented to Mr. Gmach, as well as his answers:
NoReazon.com – How long have you been currency trading industry?
Azouz: Almost 10 years now, but I mainly trade stocks and ETFs.
NoReazon.com – How has your experience and background contributed to the success of Quantshare.com thus far?
Azouz: I am a computer engineer and passionate about trading. The first few years when I started trading, I tried many software programs and each one was lacking some features that I badly needed. So I decided to create my own software. In the beginning it was designed to be a software for my own use but after 6 months of development, I decided to sell it to the public.
NoReazon.com – What do you want your customers to get out of using your trading software?
Azouz: QuantShare is a software designed mainly for use by advanced and experienced traders. My customers like the way it allows them to combine data from multiple sources, easily create advanced trading systems, and then optimize them.
NoReazon.com – What advice would you give those who are part of your target audience?
Azouz: Always look for new ideas, back test these ideas, and then repeat until you are comfortable with a strategy.
NoReazon.com – What are people missing out on by not using your products and services?
Azouz: Advanced features you will not find anywhere else, as well as sharing server with +1000 trading items and a great community of active and experienced traders.
NoReazon.com – What is a common misunderstanding people have when visiting Quantshare.com?
Azouz: That our company sells data.
NoReazon.com – What makes you different from your competitors?
Azouz: Besides the unique features of our product and our sharing server where users can share everything they create in QuantShare, I would say… we listen to our customers, whether they need a new feature, need help creating a trading system, or implementing a script; we are always here.
NoReazon.com – Over the years, to what degree has your company grown?
Azouz: Our revenue has constantly increased since we started QuantShare at a rate of +40% / year.
A special thanks goes out to Azouz for being willing to participate in this interview